Week 3 * Day 2 * Easter
Tuesday: Eggs (part 2)
With just a few plastic eggs a lot of learning can come your way!
Below are just a few of our favorite ways to use plastic Easter eggs that support many areas of development.
1st:
Try filling the plastic eggs with different objects that provide both loud and soft noises when they are given a shake. You can use random things from around the house (cotton balls, marbles, lego pieces, marshmallows, etc) and secure the eggs closed with tape. Then put all the eggs together and have your child sort the egg shakers into two different piles -
Loud or Quiet.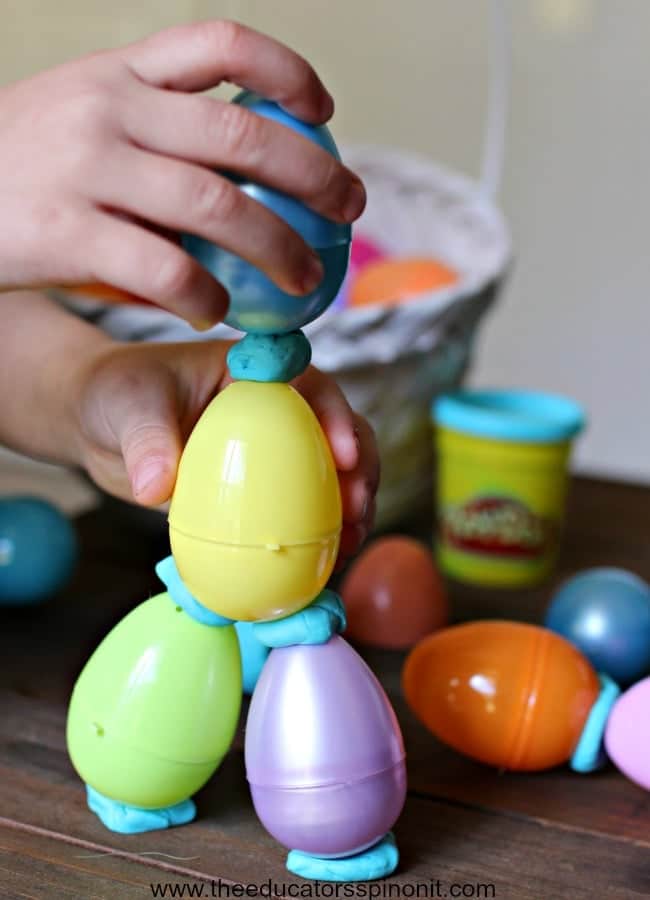 3rd:
An easy literacy activity is to sharpie letters on top and bottom of the egg halves with one upper and one lower case letter and let your child place the matching pieces together! This can also be done by writing a number and then its dot quantity on the other half.
4th:
Bring those eggs to the sink or bathtub and let them float around while your child uses kitchen utensils such as a ladle or salad tongs to try and scoop them up.
5th:
Get out the baking soda and vinegar and try out this fizzing egg science experiment:
6th:
Our final few ideas for the day are for your little artists. The eggs can be opened and used to stamp circle shapes on paper, or closed to act as a roller for the movement of the paint. Examples of these ideas are pictured below.
We hope you enjoy these activities as much as we do!